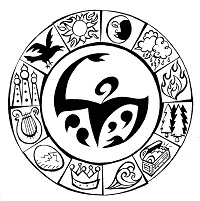 Liverpool Storytelling
Regular tuition in the art of storytelling…
Saturdays @ The Bluecoat
Tell stories and learn techniques for remembering or enhancing stories. Ideal for building confidence in acting and public speaking or just for the pure enjoyment of story.
What We Do
Workshops

Led by Roger Hill, they are drop in sessions for people of all abilities. They offer structured exercises designed to polish and improve your telling combined with the opportunity to tell stories to a supportive audience. £5-10 donation according to what you can afford.

Story Share

Sessions are drop in and facilitated by Roger Hill. They offer a chance to listen or to tell. Try out new stories and get constructive feedback from your audience. £5- £10 according to what you can afford.

Bluecoat Story Night

A monthly event dedicated to performances of stories and readings. FREE. More...

Courses

Led by experienced tellers, focusing on specific aspects of storytelling practice and deepening your understanding of the storytelling craft

Details of ongoing courses held @ Bluecoat run by Roger
"Stories are bridges from one mind to another."
Martha Holloway
Calendar
October

22nd
Story Share 10am - 1pm info
17th
Crafting a Story 2 2pm - 5pm info

November

5th
Workshop 10am - 1pm info
9th
"The Shahname" 7.30pm Liverpool Hope University Creative Campusinfo
18th
Story Night @ the Bluecoat, 7.30pm in the Sandon Room, FREE info
19th
Story Share 10am - 1pm info
19th
Crafting a Story 3 2pm - 5pm info

December

3rd
Workshop 10am - 1pm info
9th
Story Night @ the Bluecoat, 7.30pm in the Sandon Room, FREE info
17th
Story Share 10am - 1pm info
17th tbc
Crafting a Story 4 2pm - 5pm info
Bluecoat Story Night
Where stories go for a good night out
It's the night when story-tellers, story-readers and keen audiences join in the enjoyment of story. We also welcome songs which tell a story.
The first half of the evening will be for all-comers, - announce yourself on the night and, if there's a story-space, we'll fit you in. First come first served. The second half will be by invitation of the curator of that particular night.
We ask contributors to stick to some simple rules:-
- all written stories to be original creations
- first half stories to be no longer than 7 minutes (for readers that means about 1000 words of text) – and we will be strict about this. Watch out for the gong…..!
- if you have a longer telling or reading to offer please submit your request by Monday of the week of the Story-Night to yourstorynight@outlook.com and we'll let you know soonest if we can fit you in to the second half of the night.
- please try to match your story-content to the interests of a wider audience
If you are unsure about reading a written story yourself we may be able to find an experienced reader to do it for you. If you would be interested in this please give us some notice.
So do join us every month and if you're just keen to sit back and listen we can guarantee a rich and satisfying audience experience – a good time will be had by all.
Crafting A Story
See Calendar for Dates £60/£40
For people with a story to tell who want to build their confidence and refine that story for public sharing and telling. Participants should already have a story or stories they wish to develop, and be prepared to work on it in between sessions. Includes 1:1 mentoring.
Take a Leap
Starting 24th July 2016
For some time we have been looking for an opportunity to pilot a different kind of course as part of the Liverpool Storytelling portfolio. Story is a great medium for self-exploration, and is in the great holistic tradition and "Take A Leap" is aimed at individuals who would like to use story as a way of exploring personal experiences and resolving issues in their lives. The new course is not intended for people wanting to improve their storytelling techniques. "Crafting A Story" is that kind of Course and there will be a new version of that in the autumn.
On Sunday 24th July we have booked a space at The Bluecoat for a one-day pilot of "Take A Leap". Eventually we expect the course to consist, like "Crafting A Story", of several sessions over a number of weeks, but for this first outing we want to use the day to explore a number of approaches to story as self-exploration, which can later be incorporated into a longer version of the Course.
We won't be preparing or trying out stories for sharing in other groups or nights. Instead we'll be using the idea of Story to map out lives and relationships. Trust and confidentiality will be important – what is shared in the room will stay in the room. Imaginative adventuring will be at the forefront of activities.
So, if you would like a taster of the longer course, bring along your self-questions on 24th July. The Course will be led by Roger Hill and will run from 10.00 a.m. to 4.00 p.m. with breaks for lunch, etc. As it's a pilot, participation will be at a budget rate of £15 for the whole day. It won't be a drop-in session – you will need to be attendant for the whole day. To make a booking for "Take A Leap" or to ask for further clarification, please contact Roger.
Course Booking
Places on all courses are limited so booking is essential.
To book, email info@liverpoolstorytelling.co.uk or text 07930 450829 or phone 01865 720562
Contact & More Information
For more information or to book, email info@liverpoolstorytelling.co.uk , text 07930 450829 or phone 01695 720562
Other Events in And Around
The Shahnameh: Epic Book of Kings
Wednesday, 9 November 2016, Time: 7.30pm
The Capstone Theatre, Liverpool Hope University Creative Campus, 17 Shaw Street, Liverpool L6 1HP
Xanthe Gresham Knight - storyteller
Arash Moradi – musician (shurangiz, daf, setar)

Dive into the majestic mythology of Persia - where supersized heroes and magical horses challenge the selfish demands of kings; where fathers and sons meet as strangers on the battlefield and, condemned by a femme fatale queen, a lion-hearted young man journeys through fire.
More info and booking