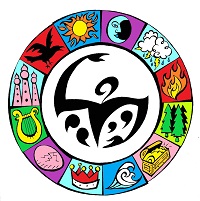 Liverpool Story Telling
Current Events & Workshops
Tales at Twilight
St Bridget's Centre, Church Road, West Kirby, CH48 7HL
Friday 13th December Time: 7.30pm; Tickets £5 on the door.
An evening of seasonal stories and music.
Storytellers – Dave Brown, Phil Brown, Lindsey Fooks, Andrew Gibb, Andy Johnson, Marko Muller, Sue Povall, Mary Rickett &Nikki Whittall
Music – The St. Bridget's Players
Little Red Riding Hood and other Lost Girls
Nell Phoenix
Parbold WI, WN8 7HA 11th March 2020 7.30pm
The fairytale world is littered with girls who are lost or mislaid, and very few are as innocent as you might first imagine.
More Details
Mr Sandmann - Bringer of Dreams and Nightmares
Ben Haggarty
Parbold WI, WN8 7HA 1st April 2020 7.30pm
Via freak-show and moonshine bar, ready yourself for an intense and alarming journey through the ambivalent mythology of the Sandman.
More Details
Northen Bardic School 2020
Storytellers Development Circle Led by Clare Murphy
4 Weekends starting, 29th May 2020 based in West Lancashire
This group is for storytellers with performance/stage/storytelling experience, it is not an introduction to storytelling. You must have a working knowledge of stories.
More Details
Story Shed Cedar Farm - Drop in Sessions for Children
Story Shed can be found by the playground at Cedar Farm Galleries in Mawdesley, West Lancashire.
Calendar and More Info
Workshops: TELLING STORIES TO YOUNG CHILDREN
email or contact Tracey 0730 5806741
Knowsley Library Story Circle
Huyton Libary, Civic Way, Huyton, Liverpool L36 9GD 0151 443 3734
Each session will offer stories and readings on a theme decided by the group - for adults
"Stories are bridges from one mind to another."
Martha Holloway